Join At the Table
Nourishing ourselves is more than just about the food we eat.
It is the position we take up in the world, the thoughts and beliefs we hold.
The way we relate to others and most importantly how we feel internally.
At The Table is an invitation to intentionally change your life.
It is a space for growth, learning, connection and commitment.
This membership will provide:
Motivation
Accountability
Enlightenment
Inspiration
And, most importantly- lasting change!
For just €15 a month you can Join At The Table and embark on a journey of learning and discovery which will result in life-long lasting change to your body and your mind.
And you can cancel your membership any time you like!
Think of it as a lifestyle overhaul rooted in the most up to date scientific and psychological research.
"I'm now in love with my body again and my energy levels are fantastic! I've lost 30 lbs so far and it really has been an enjoyable process- I can eat the food I love, I just now understand how to eat." Deirdre, Bordeaux Read Story
This is your invitation to invest one year in changing the rest of your life.
Register now by sending me a message with the title 'At the Table' and I will set up your membership.
Isn't it time to feel at ease in your own skin, feel freedom around food and love your body?
No strenuous exercise regime
No food elimination
No strict meal plan
Just powerful psychological tools and strategies which will help create lasting change.
"It allowed me to identify what was holding me back from living my life which has led to a happier, more relaxed and positive feeling about myself and my body. " — Laura, Dublin, Ireland Read Story
How does it work?
On the first day of each month, Karina will share a video workshop on topics surrounding food, your relationship with your body and a more intentional life.
A MonthlyQ & A Session
The third week of each month a Q&A with Karina will help answer any questions, or challenges you may have based on that month's theme.
Artful Eating Recipe Bank
A bank packed with delicious recipes to fuel your food love and encourage pleasure in the kitchen. They're all quick and easy to follow (no elaborate cooking techniques required) and you'll also find helpful shopping lists and the basic kitchen tools you need to eat artfully every day.
Cognitive Workbooks
To accompany each month's theme and help consolidate the powerful mindset shifts you will experience during the program. They are filled with actions, tools and strategies, as well as space for self reflection and growth.
The Artful Eating Facebook Community
Share your wins, questions and struggles with an incredible group of Artful Eaters who are on the journey with you - so you're high-fived, cheered on and supported every step of the way. It's also your chance to ask me any questions along the way!
Who is At the Table for?
You're brand new to Artful Eating, you're fed up with dieting and you're ready for change.
You've finished reading the Artful Eating book and you are hungry for more.
You want regular inspiration, motivation and strategies to keep you engaged in the Artful Eating way of life.
Artful Eating has opened your eyes to the possibility of a new way of being, now it is time to embrace this new approach to yourself, your mind and body.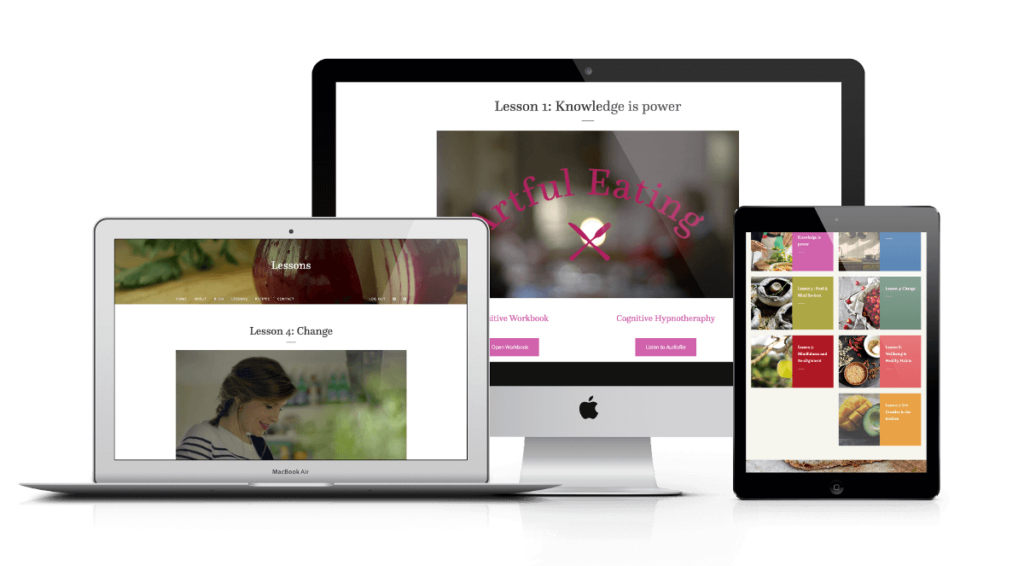 Sign up now and get the first month for FREE!
This is a wonderful and truly transformative resource that I am offering as my gift to you for embarking on the At the Table journey.
This offer is only valid for the remainder of 2017 so hurry up and join At the Table now!
You can cancel your membership at any time- so try it and see if it's for you (I know you'll love it!)
Your At the Table membership gives you unlimited access to everything, for as long as you remain a member.
Once you join, you will receive:
A confirmation email
Access to our private facebook group.
Then you can login to the At the Table private members area to access all the resources and get started!
All of the workshops are downloadable so you can listen to them anytime, anywhere; in the car, when you're out for a walk, really whenever suits you!
The very first At the Table workshop will arrive in your inbox on the 1st of January 2018.
Register your interest now by sending me a message with the title 'At the Table' and I will set up your membership.