I've had family visiting from France this past week and it has been a wonderful excuse to experiment in the kitchen. We've enjoyed lots of eating and long chats over endless cups of tea, catching up on life and sharing stories. Their youngest member Aiden, turned two during the visit, so of course I wanted to throw him a birthday party, I decided that this would be a perfect time to challenge myself to see if I could make healthy eating for kids fun.
I remember my birthday parties from childhood, they were (to me, at six or seven) very grand affairs. My mother would invite everyone we knew. All the children, not just from my class, but my brother's class too. Growing up in the countryside, we were lucky enough to have lots of space to accommodate children spilling out of every room and every corner of the garden. I always felt the house came to life on these occasions. We would have a bouncing castle (probably a health and safety nightmare now!), or some form of entertainment, a magician or clown.
I absolutely loved my birthday and I love birthdays in general. I think it's really important to take the time to celebrate a new year, to reflect on the year past and contemplate the ones to come. I see growing older (and hopefully wiser) as a privilege and so welcome each new year, or wrinkle with appreciation.
But back to birthday parties... My mother used to go nuts filling the table with sweets and jellies, rice crispy buns (which are a childhood favourite I still regularly indulge in), fizzy drinks, crisps, cocktail sausages, chips, pizza, burgers, mini chocolate bars, biscuits and of course...cake! Thinking back on it now, healthy eating for kids was not a priority, in fact it was a shocking display of all the things we would not want our little ones to eat. But times were very different and birthdays were all about indulgence so these things, which were usually off the menu, were permitted in abundance.
The menu for Aiden's party was inspired by another recent birthday celebration. Last week I took my grand aunt out to lunch to celebrate her 78th birthday. I chose a very 'hip' restaurant on Sandymount Green called Buckle up! I don't love the name, but the food is so fresh and innovative and I wanted her to try something a little bit different. We both ended up ordering beetroot burgers. I was slightly apprehensive, but they were delicious. So delicious that we just had to ask the chef for the recipe and I thought the party would be a perfect opportunity to play around with my own version. So I stock piled some organic beetroots and got grating. With courgettes in season, I was inspired to double up and make both a courgette/zucchini carbonara, with a fresh summer salad of course, and a courgette cake which is my absolute favourite, ( I'll add the recipes below). So no fizzy drinks, or overly processed sweets for these little darlings! Thankfully they were all far too young to be disappointed...
Actually I was quite surprised at their reactions to the birthday menu. Had I shared the menu with the wonderful mommies, I suspect they may have had a bit of concern as healthy eating for kids is not your typical party menu. So in the end I did give in and also made some pasta with a sweet pepper and tomato sauce, just in case.
Two things struck me about this tots party. The children were all served up the pasta initially and the moms graciously tried my less than traditional party fare. And you know what? They loved it! So much so that the children wanted to eat what the mommies had on their plate. Very soon we had a table full of little purple mouths! (I do wish I had better photos and caught this wonderful sight to share with you, but I was far too preoccupied in the kitchen!).
My clients tell me often that they have to cook two and three meals to accommodate the fussy eaters in their family. This is madness! Good food, especially vegetables, can be transformed into delicious fare which children will love. Just experiment, be adventurous yourself and your children will follow. Children take their cues from their parents, so if you eat it, they will too!
The other thing I noticed is the amount the toddlers ate and how they ate. Left to their own devices they ate slowly, chewing and enjoying their food. They reached for and sought out what they wanted and clearly ate until they felt satiated. None of them over indulged on the cake, or ate too much of anything. So mommies and their little ones all left feeling happy and healthy, instead of wired and hyper from too much processed rubbish.
This is something we can learn from. Typically toddlers have not yet developed an emotional relationship with food. They aren't concerned with eating too much, or too little. They just eat what they want and if their mommy lets them, they stop when they are full. They don't care about the conventions of meal time and return to eat when they feel hungry again.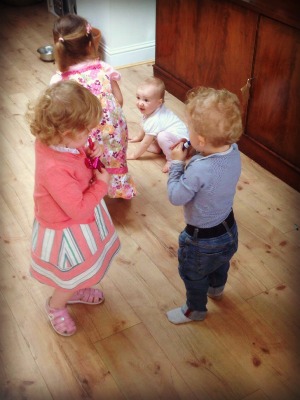 Why healthy eating for kids really does work
Trying to understand why our children have a naturally inquisitive and almost instinctual palette reminds me of a psychological experiment I read about which was conducted many, many years ago where our innate nutritional wisdom was documented. A group of toddlers were put in charge of feeding themselves. They were offered 34 nutritionally diverse whole foods, including water, potatoes, beef, bone jelly, carrots, chicken, grains, bananas and milk. What each child ate, and how much, was entirely up to him or her.
The results were astonishing. Instead of binging on the sweetest foods, the toddlers were drawn to the foods that best nourished them. They ate more protein during growth spurts and more carbs and fat during periods of peak activity. After an outbreak of mononucleosis, curiously, they consumed more raw beef, carrots and beets. One child with a severe vitamin D deficiency even drank cod liver oil of his own volition until he was cured. By the end of the experiment, one doctor was so impressed with the toddlers' health that he described them as "the finest group of specimens" he'd ever seen in their age group. Incredible, isn't it?
So I want to leave you with a thought today. The only thing that limits us is our thoughts. We think that our little ones won't eat this or that. We think that we are denying ourselves if we don't have the beef burger and chips. We think that times of celebration, like a birthday, should allow for 'permission giving thoughts' to eat all the things we typically try to avoid.
But I encourage you to get creative and experiment- it's so much fun! Let go of old limiting beliefs and throw out the rule book. Let's celebrate with delicious nourishing whole food that the whole family can enjoy. Try it. I think you just might be surprised….
Now I would love to hear from YOU.
Do you have trouble feeding your little ones?
Do you find that you struggle not to give in to the little voice inside your head that encourages you to over indulge?
Hit reply to this email and let me know. I read and respond to every email I receive and I am here to help!
If you have a question you'd like answered or you would like me to cover a specific topic send me a tweet at @karinamelvin, or just hit reply to one of my emails with your question. I would love to hear from you!
Also, if you need help and you want to know more about how to achieve your dream weight without the pain of dieting, then just go to www.artful-eating.com and sign up for the free mini Artful Eating course.
Did you miss last week's post? You can read it here
Beetroot Burgers
There are fancier recipes out there for beetroot burgers, but I always like to try and keep things simple. I didn't weigh or measure as I was scrambling for time, so these are really just 'guestimates'- sorry! But you are looking for a consistency where the burger will stick together, not too wet, not too dry. So here's my version which made enough mini burgers to feed seven big ones and five little ones:
5 decent sized raw beetroots grated
2 large onions, finely chopped
6 cloves of garlic, finely chopped
250g of ground almonds
A LARGE handful of coriander/cilantro ( because I adore it!), roughly chopped
Two large tablespoons of jumbo oats
Two free range eggs, beaten
Salt and pepper
Grate the raw beetroot into a large mixing bowl. Then add the rest of the ingredients and mix gently until they bind. Make into burger patties and leave in the fridge to rest for 20 minutes or so before cooking them. You can grill them, BBQ them or shallow fry them- whatever takes your fancy. Serve with some feta cheese crumbled on top, or crème fraîche, with salad or some roasted sweet potato fries.
Courgette/Zucinni Carbonara
I really recommend a spiralizer for this one. I love mine and use it at least once a week- well worth the investment!
150 g (5oz) streaky bacon, roughly chopped
1 garlic clove, crushed
5 courgettes, put through a spiralizer or peeled into ribbons using a Y-shaped peeler, then cut in half lengthways
2 large egg yolks
50 ml (2 fl oz) double cream
50 g (2oz) Parmesan, finely grated, plus extra to sprinkle
Fry the bacon in a large frying pan over medium heat until golden. Stir in the garlic and fry for another minute. Add courgettes and fry for about three minutes- you don't want to over cook the courgette as it will become soggy, you just want to warm it through. Whisk together the egg yolks, double cream and Parmesan. Season well. Stir the cream mixture through the courgettes and cook for 1-2min, tossing regularly. Serve immediately, sprinkled with extra Parmesan, if you like.
So easy and so delicious!
Courgette/Zucinni Cake
This is a super simple cake that you can whip up really quickly. It freezes well and is a very popular afternoon tea treat in my house. It is the EASIEST cake you'll ever make as the courgette melts into the batter making it a lovely moist cake that will keep for a couple of days. I especially love this cake as it doesn't require any accoutrements, no need for cream, icing, or butter- it tastes delicious all on its own! But for a special occasion this is an easy one to dress up with a little extra love. As you can see from the photos, I am not into perfection when it comes to food aesthetics. Good enough is just perfect to me. I think its worth making a bit of effort on presentation, but do not chastise yourself if a cake doesn't turn out perfect. Remember that its nothing a little bit of icing, or cream can't remedy!
110g or 1 cup grated courgette (roughly 1 courgette/zucchini)
175g or 1 cup caster sugar
112ml or half a cup sunflower oil
2 small eggs
1/2 vanilla pod, scraped of seeds, or 1/2 tsp vanilla essence
165g, or 1 & 1/4 cup self-raising flour
¼ tsp baking powder
1/2 tsp cinnamon powder
1/2 tsp baking soda
½ tsp salt
For the centre and topping
250g (9 oz) tub mascarpone cheese
2-3 teaspoons vanilla extract
2 tablespoons icing sugar, sifted
250g or whipped cream
Berries for garnishing
Pre-heat your oven to 160C/320F/gas mark 5. Grease and line a cake tin with baking parchment. In a mixing bowl, beat together the grated courgette, sugar, oil, eggs and vanilla. Sift the flour, baking powder, cinnamon, baking soda and salt into the wet mixture. Pour mixture into the tin. Bake for one hour, or until a skewer comes out clean when inserted into the middle of the cake. Leave to cool and turn out. To make this simple little cake look more enticing I added a layer of mascarpone through its middle by making two batches of the above and baking two rounds of cake. Mix the mascarpone cheese in a small bowl with the vanilla extract and the sieved icing sugar. Spread evenly over the top of the first round then place the second round on top. Cover the top with whipped cream and berries. Store in the refrigerator.